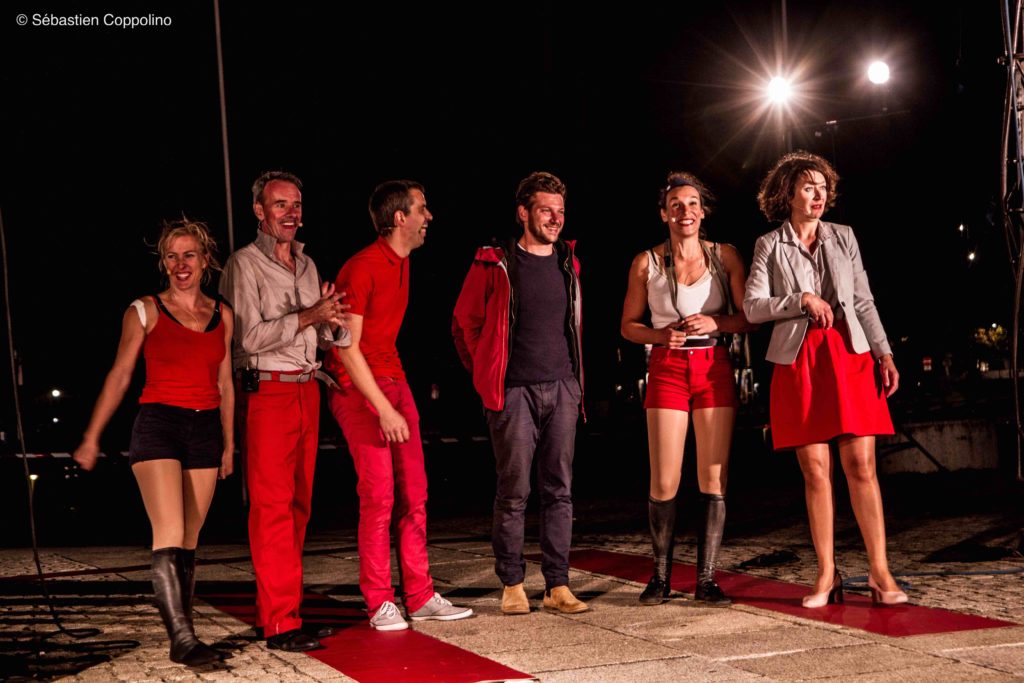 Pub Show Urbain
Street Theater and Circus
Swinging trapeze, Chinese pole, Singing and Live music
Co-production Cie Lady Cocktail (Be) and Du Grenier au Jardin (Fr)
"You are just about to enter into real-culture, the art of live publicity, designed for, by and with you. We are artists of a new kind at the service of a conglomerate of lobbies that come to you to boost your happiness capital.
The show you will see in a few minutes was imagined and produced by people who know you better than anyone. People who have always been with you and whose job consists in improving your everyday life.
Enjoy this moment that looks like you and let's build together the show of the future.
Pub Show Urbain, our purpose is to entertain you!" 
* Writing direction and staging : Fabrice Richert
* With : Violaine Bishop/ Anna Blin/Nadine Bechade/ Gilles Favreau/ Thomas Dardenne
* Musical arrengement and vocal coaching : Gilles Favreau
* In charge of comunication and developement for the company "Du Grenier au Jardin" : Emilie Bouillaguet
* Structure design and construction : Cyril Behar
* Production : Asbl Tant qu'a swing ! (Be) and Association Du Grenier au Jardin (Fr).
* Co-production : "CNAREP Sur le Pont" (Fr), "OARA" (Fr), "Graines de Rue" (Fr), "Le Centre Culturel du Brabant Wallon" (Be).
* With the help of : La Fédération Wallonie-Bruxelles, Administration générale de la Culture, Service général de la Création Artistique, Service du Cirque, des Arts forains et des Arts de la Rue, "Le Centre culturel Wolubilis" (Be).
* With the support of : "La Cascade, Pôle National des Arts du Cirque" (Fr), "Mairie d'Evron" (Fr), "Le Centre Culturel de Leuven 30 CC" (Be), "La Roseraie" (Be), "L'Espace Catastrophe" (Be), "Wallonie-Bruxelles-International" (Be) "Wallonie Bruxelles Théâtre Danse" (Be), La communauté de communes Brenne Val de Creuse (Fr).
 The mesurements under are ideal and can eventually be adapted according to the venue and the anchor points, don't hesitate contacting us for any technical questions and contact us to have the full technical sheet.
Technical contact :
Violaine Bishop : Structure and technique implantation contact +32.4.97.97.62.89 (Be)
Fabrice Richert : Space, adaptation and lighting contact +33.6.76.49.76.95 (Fr)
Structure implantation :
Height of installation : 8.50 meters, Yard width 6.20 meters
Required aerial acrobatic space : heigt 11m x lenght 13m x width 8m (no obstacle : trees branches, electric ligne …)
Minimum ground space (structure installation) : 16 x 18 meters
Ground performance space : 14 x 9 meters
Ground : Flat and level floor.
*Anchoring :
5 ground anchoring points
-Either 5 clamps (provided by the company, 1m20 pegs) in the ground  (or 4 clamps + van of the company) + 2 clamps (0.4m) in the ground
No piping at less than 1 meter in depth –
No underground elctrical lines at less than 1 meter depth
-Or 5 Concrete blocks (on wooden pallets) of 1 ton each supplied by the organiser (or 4 blocks + van of the company)
-Or 5 water containers (on wooden pallets) of 1 ton each supplied by the organiser (or 4 containers + van of the company)
Structure set up time : 3h – Tear down time : 2h
Installation time : 2h (sound adjustment, trapeze installations, stage set up, etc…)
The installation can be done last minute (one hour before the show) in case of bad weather.
Time necessary between the end of set up and beginning of the performance : 3h
In case of 2 shows : minimum of 2h between the end of the 1st show and the beginning of the 2nd.
For night time shows : lighting is provided by the organizer (see requirements in the lighting section). It is essential to do a lighting check in night show conditions before the performance, either the night before or minimum 1h before the beginning of the show. As much as possible, the organizer provides carpet or seats/ stands for the confort of the audience.
Lighting need (In case of night time shows) :
4 light feet
12 PC 1000
4 "platines" with 4 PAR 1000
2 "Quartz" for the audience 
Power supply close to the area of the performance location : 220V / 16A
2 technicians during the set up and tear down, to install/ take out stakes, load and unload the vehicle. Plan to have a perforator for hard grounds (cement, etc…)
Surveillance of the site outside of show times
+ 1 parking space free and secured for van, close to the site of performance;
Please plan to have water bottles for the set up and tear down.
Sound need :
Ask us directly.