"Les Filles du 2ème"
(The Girls from Up there)
Freshly laid off from their small canning factory, three overexcited chicks arrive in laughter; Recycled as street performers, our three "desperate housewives" in blue overalls offer a show of claiming acrobatics with a strike of trapeze.

Femininity, prowess, joyful provocations and canning, an explosive cocktail to taste with a raised fist and hair in the wind!

If the pickle is a job so is the trapeze … Will they live up to the challenge?
Lady Cocktail is not a pickle it's "haute couture" !
You feel like having a good laugh? So do they…
Enjoy the show!
*Distribution : Lola Ruiz / Violaine Bishop / Anna Blin
*Direction : Louis Spagna / Fabrice Richert
*Musical score : Thomas Barlatier
*Costumes and stage setting : Aline Breucker
*Coach vocal : Gilles Favreau
*Production: Asbl "Tant qu'ça swing !"
*Coproductions : La Maison de la Culture de Tournai/ PLÔT, Centre des Arts de la Rue d'Ath, Le Centre Culturel du Brabant Wallon, DEGAJ
*With the help of : Ministère de la communauté Française, Direction générale de la Culture, Service du cirque, des Arts forains et de la Rue
*With the support of : L'Espace Catastrophe, La Roseraie, Theater op de Markt-Dommelhof, Pôle Cirque Méditerranée (Marseille, La Seyne sur Mer) CREAC (France), Le Centre Culturel d'Ypres, Latitude 50°, La Maison du Cirque
This show is subsidized by "Art et Vie".
This show was subsidized by the "WBI" for the performances of the 19th and 20th of may in Bratislava (Slovakia) at the occasion of the "Circu l'art" festival and for the "Festimomes" festival in Aubagne on the 26th and 27th of July, for the "Festival International de Theatre de Rue d'Autillac in 2013 and for "The International festival of theater of Sibiu" (Romania) in 2014, the festivals "Strade del Teatro" on Abbiategrasso (IT), "La Strada" in Brescia (IT), "Asfaltart" in Merano, "La Bisbal d'Emporda" in Girona (ES), "Chalons dans la Rue" in Chalon (FR) in 2015  .
This show was subsidized by the "Centre des Arts Scénique" for the ""Festival International de Théâtre de Rue d'Aurillac" in Aurillac in august 2013.
TECHNICAL SHEET
"Les Filles du 2ème

"




(The Girls from Up there)
Street performance – Duration: 45 min
Contact :

Tour Manager : Veera Kaukoranta – ABJOY Diffusion +32 (0) 483.65.26.90
diffusion@ladycocktail.com
Technical Contact : Anna Blin +32 (0) 477.88.21.40 / +33 (0) 676.49.76.95
info@ladycocktail.com
Perfomance venue :
– Height of the installation: mast height: 7.50m, Yard width 3.10m
– Required aerial acrobatic space: height 9m x length 13m x width 5m
– Minimum ground space (structure installation): 13 x 16 metres
– Ground performance space: 12.5 x 9 metres:
* Ground: as horizontal as possible, flat and accessible by car
* Anchoring: 5 ground anchoring points:
    
– Either 5 clamps (1m20 pegs) in the ground + 2 clamps (0.4m) in the ground (or 4 clamps + van) – No piping at less than 1 metre in depth – No underground electrical lines at less than 1 metre in depth
    
– Or 5 concrete blocks (on wooden pallets) of 1 ton each supplied by the organiser (or 4 blocks + van)
– Or 5 water containers (on wooden pallets) of 1 ton each supplied by the organiser (or 4 containers + van)
Installation time : 3h – Dismantling time : 1h30
Setup time : 1 hour
– For night time performances : lighting is supplied by the organiser (see appended layout). For night performances, it is essential to do a lighting check before the show, either the day before.
Electrical supply near the performance location: 220V / 16A
Guarding of venue outside performances
+ 1 free and secure parking space for a van near the performance place
Schéma du portique :
 Fiche technique lumière :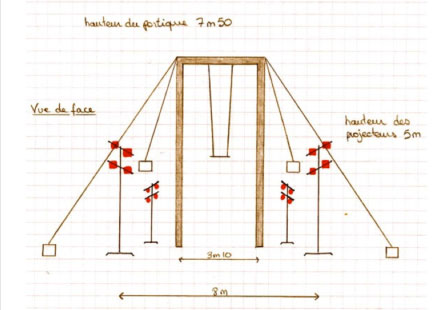 4 tours de 4 projecteurs PAR 64 (soit 16 projecteurs) fournis par l'organisateur