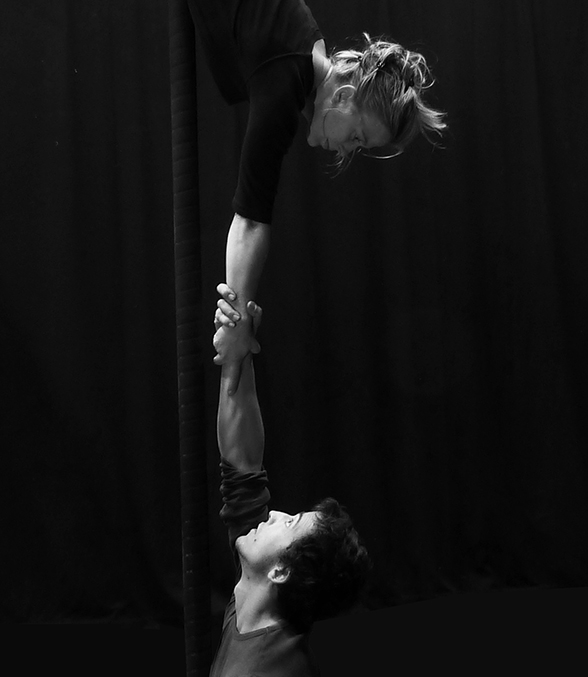 "On – Off" is a pole performance for two! It's Oli and Vio,
circus artists from two different horizons. Up there, on the pole, the pleasure of sharing the knowledge and technique drove them to build a common artistic project.
The creation of "On – Off" is a laboratory for two people looking for the discovery and the inspiration around a tool that offers thousand possibilities.

*Distribution: Olivier Melis / Violaine Bishop
*Production: Asbl Tant qu'ça swing ! – Cie Lady Cocktail
*With the support of: L'Ecole de Cirque de Gembloux & Le Centre Culturel du Brabant Wallon
TECHNICAL SHEET
On-Off
Street or theater chinese pole duo – Duration: 10 min
 Contact :
 Olivier Melis – +32 (0)477 95 12 52 – olivadrouille@gmail.com
 Violaine Bishop – +32 (0)497 97 62 89 – violainebishop@gmail.com
Space:
 * Hight: 6 m minimum. Possible to use a 5 m pole if the orginiser ask for it in advance.
 * Ground space: 4 m all around the pole. For installation and dismantling, ground space needed: 8 x 2 m.
Anchoring:

supplied by the organiser

.
3 or 4 anchoring points between 4,5 to 8 m (ideal: 6 m) from the pole and equidistant. Possible to use existing anchoring as beams, pillars, benches, streetlights, trees…

Either: Blocks (water, concrete, sand): minimum 350Kg/point. Place an anti-skid between  the block and the ground to avoid the sliding phenomenon.

Or: Clamps in the ground.Pinces à planter dans le sol. No piping at less than 1 metre in depth – No underground electrical lines at less than 1 metre in depth.
Handling: We need a technician from the organisation for installation, dismatling and anchoring points. If fast installation and dismantling required (cabaret,…), we need 15 min reharsal before the show to practice the handling with the technician.
Sound: Sound system and technician supplied by the organiser.
Lights: Outdoor: light support for the night to settle and adjust with a technician. It is essential to do a lighting check before the show, either the day before.
 Indoor: Full Cold Light, face and against, with a touch of warmth on the pole. It is essential to do a lighting check before the show.
If the space you have is not ideal, please don't hesitate to contact us, solutions can be found!