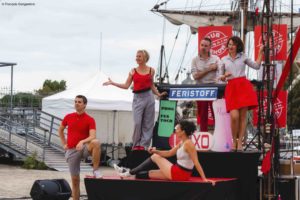 After thirty days of residency last summer filled with joy and good vibes's, it's the new form for five of "Pub Show Urbain" that saw the light of day in front of a warm audience on the 8th and 9th of October. The Rochelaise drizzle did not get the better of us ! A big thanks to "Fêtes le Pont" organized by CNAREP Sur le Pont which hosted these first and last two dates of our very short summer season 2020. To discover or re-discover the show, it's going to be in 2021 … in the–we hope–FREE streets of our cities ! Tour calendar to come.
---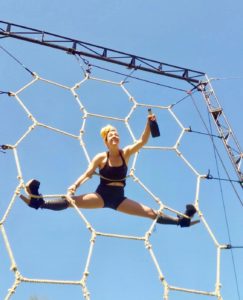 Discover soon the new work in progress of the Company :
"To Bee Queen" (Provisory Title)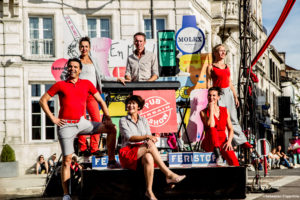 Have you seen the Pub Show Urbain ? Not yet ?
Don't worry, you will have the chance to see it this summer !
Click here to see the Agenda
---
Discover now the new trailer of the

"

P

ub

S

how

U

rbain"

: 
---
Thank's to all the people who participate to the crowdfunding for the "

P

ub

S

how

U

rbain" !
Thank's to:
Isabelle Pierre, Yves Blin, Régine Bouillaguet, Émilie Bouillaguet, Betty L'Hour, Jean-Pierre Guiliani, Émilie Dardenne, Frédéric Périgaud, Gilles Geenen, Marie Deblaise, Michele Pinto, Joel Richert, Jimmy Nossol, Michel Ciccotti, Alain Fourgeot, Françoise Dardenne, Simon Morant, Véronique Rousseau, Yves Blin, Thierry Ruiz, Alain Tetard, Carole Serinet.
---
Press archive : 
2016
Here the press article of the show "Les Filles du 2ème" at the festival "Viva Cité" in Sotteville-lès-Rouen, France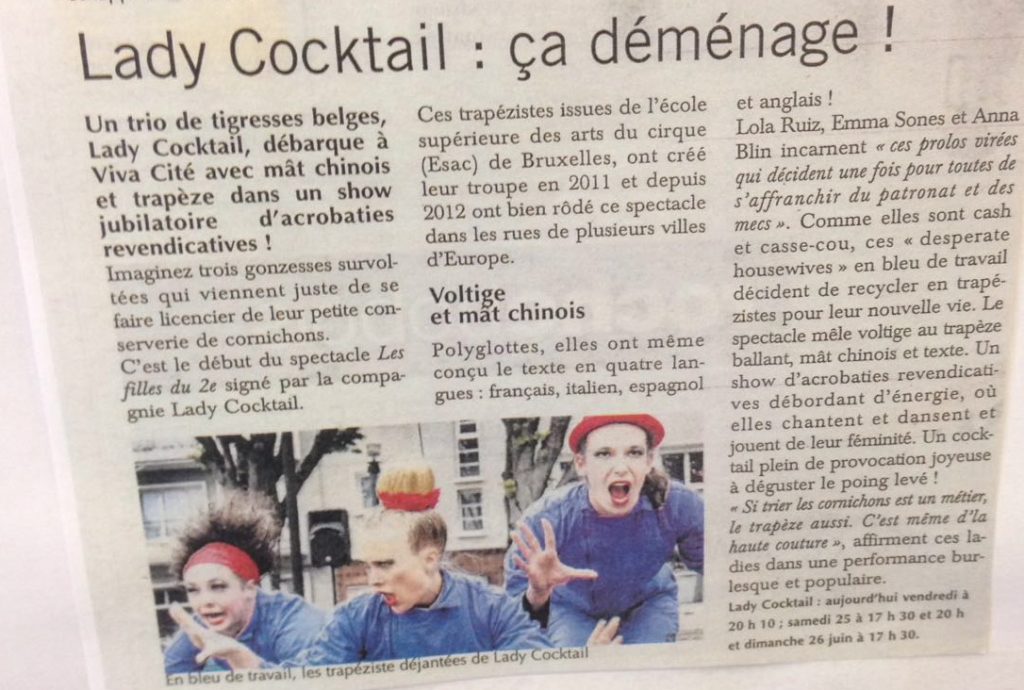 Thanks to the city of Evron (Fr), the show is ready to go on the road,


 
2015

We just finished

Chalon dans la Rue Festival (Fr), 29ème edition,


Thank's

to all the organization of the festival and to Meriem Souissi

for her article in the news paper "Soane et Loire" .