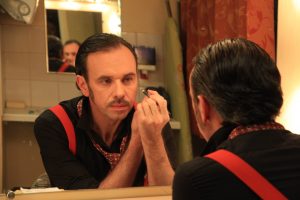 Gilles Favreau
Actor, singer, musician

2005 : 'Toi C'est Moi' with the lyrical theatre company  'Les brigands' at the Athénée theatre in Paris : role of the general resident.
2013 : Performance conference about the composer 'Jules Massenet',  at the CCSM Jean Gagnant of Limoges : Role of 'Monsieur Loyal'.
2015 : 'Rigoletto', at festival 'Chalon dans la rue' IN, role of 'Monterone' (1st act) and 'Madalena' (3rd act) – musician (accordion, tuba).
2015 : 'Ça Va Jazzer', singing, acting and tap dancing.
2016 : 'L'Amour Vache', a duo with Nadine Béchade— accordion, tuba and singing..
2016 : "Solo sur la péniche antipode", cabaret 'De quoi j'ai l'air', song lyric, accordion, singing.