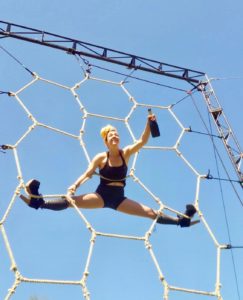 "To Bee Queen" 
Work in progress
Creation for the outside / Premiere for : spring 2021
Circus et Clowny Theatre :
Alveoli net, swinging trapeze. 
More information coming soon. 
*By and with : Lola Ruiz 
*Staging : Christine Rossignol-Dallaire
*Help on the writting work – "Bourse : Ecriture en Campagne" : Sara Amari – Cie Thank You For Coming 
*Conception and construction of the swinging structure / Technician on tour : Mathieu Moerenhout
*Sound technician : Valentin Boucq and Leo Clarys (depends of the disponibility) 
*Graphisme : Simon Ruiz 
*Confection and conception costumes: Aline Breucker 
*Construction alveoli net : Filleas De Block – Atelier du trapèze 
*Tour manager : Veera Kaukoranta – Ab joy Diffusion 
*Productions : Asbl Tant qu'ça swing ! 
*Co-productions : Latitude 50°- Pôle des arts du cirque et de la rue, Centre Culturel du Brabant Wallon, Ville de Bruxelles via appel à projet Kangouroe-Bxl, Festival International des Arts de la Rue de Chassepierre. 
*Supports : La Roseraie, Centre des Arts de la Rue de Ath – CAR , 30CC Centre culturel de Leuven, Maison de la création, Espace Catastrophe, SACD Belgique & Chaufferie Acte 1, Wallonie-Bruxelles Théâtre-Danse. 
The promotional video will be done in 2021. 
More info coming soon. For now, the plan of the structure :